Setting Up Your Gen3 Ring
If you've recently replaced or upgraded your Oura Ring Gen2 with Gen3, this article will guide you through setting up your new ring and transferring your Oura data over to it.
You can get a quick overview of features in the Gen3 ring in the Gen2 vs. Gen3 article. We also recommend the Caring for Your Oura Ring article as a resource when getting started with your new product.
To learn more about the Oura Membership that comes with your Gen3 ring, please visit the Oura Membership FAQs.
Set Up Gen3 Ring
What to Do with Your Old Ring
Troubleshooting Set Up Issues
Keep in mind: you cannot use two Oura Rings on the same device or under the same account. If you want to use two Oura Rings simultaneously, you'll need separate devices and Oura accounts.
In case you've purchased the same model and finish as your prior ring and are looking to identify which ring is which:
Place one of your rings on its charger.
Tap the battery icon in the upper right-hand corner of the Home tab and swipe left.
You'll find its generation listed under "Model and size."
---
Set Up Gen3 Ring
Reset Old Ring
Ensure you're in a location with stable internet connection.

Back up all existing Oura data on your old ring:
Go to the menu in the upper left-hand corner of your Home tab
Select "Settings"
Select "Back up all data"
Place your old ring on the charger and ensure that it's charging.
Open the Oura App and tap the spinning ring
in the upper right-hand corner of the Home
tab.
Swipe left.
Scroll down to "Tools" and tap "Set up a new ring."
Choose from the presented options:


If you plan on passing your old ring to someone else, or otherwise disposing of it, select "Factory reset current ring."
If you plan to keep your old ring without using it for a while, follow the steps in this article to place it in power saving mode.
If your old ring is lost or no longer functional, you can skip the factory reset and select "Set up a new ring" instead.
Once the selected process (e.g. factory reset/power saving mode) is complete, take your old ring off the charger.
Remove your old ring from the Bluetooth settings on your device.
Set up New Ring
Place your new ring on the charger.
Select "Set up ring" to pair your new ring with the app.


If you're using a Gen3 charger, the LED will blink blue to indicate your ring is ready to be paired.
You can learn more about using your Gen3 charger here.
If your device detects a ring other than the one you are trying to set up, select "This is not my ring" and then choose the correct one from the list of connected rings.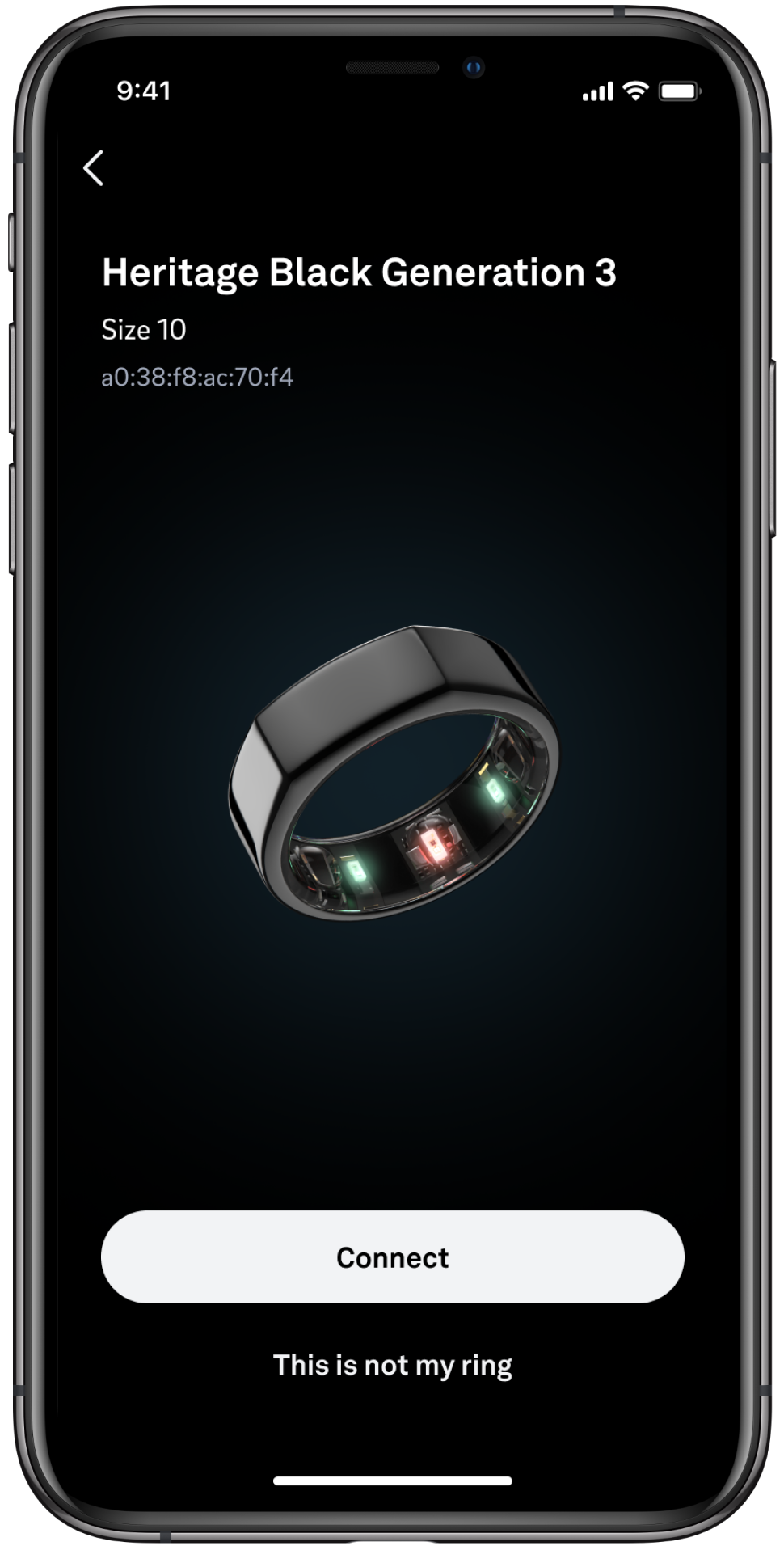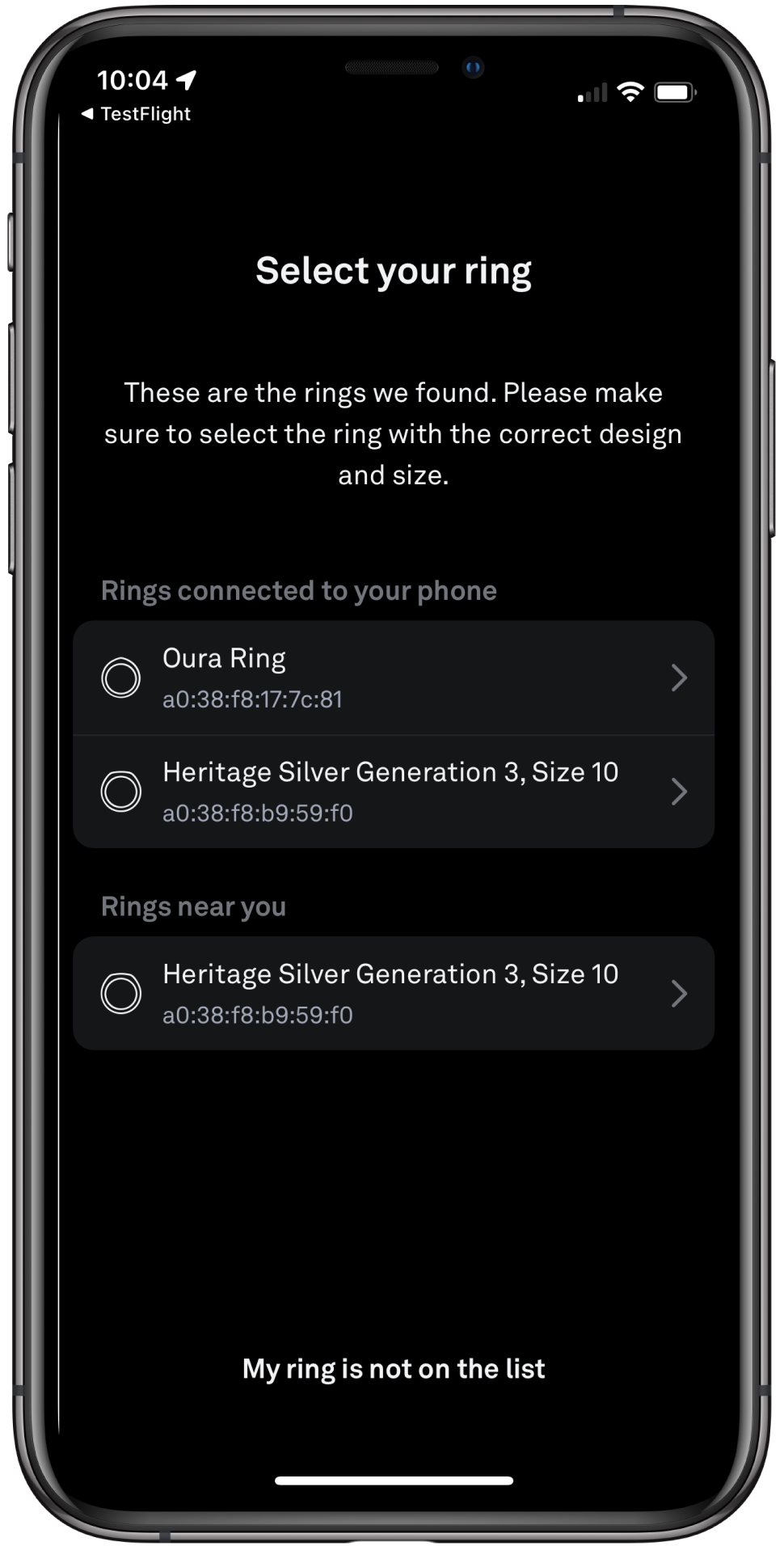 Once your new ring has been detected, select "Connect" > "Pair" with your device.
Leave your new ring on the charger until it reaches at least 50%.
To view your battery percentage, tap the spinning ring in the upper right-hand corner of the Home tab.

Follow along in-app and select "Update" firmware.
Keep your device close to your ring until the firmware is entirely complete.
Once your firmware update is complete, select "Get started" to sync all your previous Oura data onto your new ring.
---
What to Do with Your Old Ring
Once you've completed a factory reset of your old ring, you're free to pass it along to a friend or family member if it's still in quality condition. To transfer your previous Oura Ring to a new user, follow the instructions outlined in this article. However, if you choose not to give away your previous Oura Ring, we ask that you please repurpose it for the sake of sustainability.
---
Troubleshooting Set Up Issues
If you experience difficulty connecting your new ring, we have these two resources available depending on your device type:
If you encounter any difficulties while updating your firmware, please check out the Software & Firmware Updates article for tips on how to successfully complete your update. If you're still experiencing problems, please reach out to our team here.
Back to the Top