Oura believes in supporting members of all abilities, genders, and body types in achieving their activity goals, and empowers you with full control over your health goals, including the ability to choose and edit your activity goals within the Oura App.
Additionally, opting out of showing calories in the app is a frequently requested feature. Activity trackers that count calories are problematic for members who are recovering from eating disorders, or who want credit for activities such as breastfeeding, for example. The Oura App includes the ability for members to choose a daily step target instead of a daily calorie burn target, and to opt out of displayed calories entirely, so that activity features better fit your lifestyle.
Editing activity goals is available for Gen3 members with active membership, and for Gen2 users.
How to Edit Activity Goal
How Activity Goal Works
Things to Keep in Mind
More Information
---
How to Edit Activity Goal
Tap the Activity card in the Home tab
Select "Edit activity goal"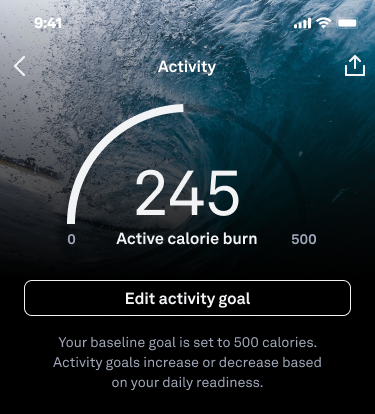 Use the slider to choose a baseline goal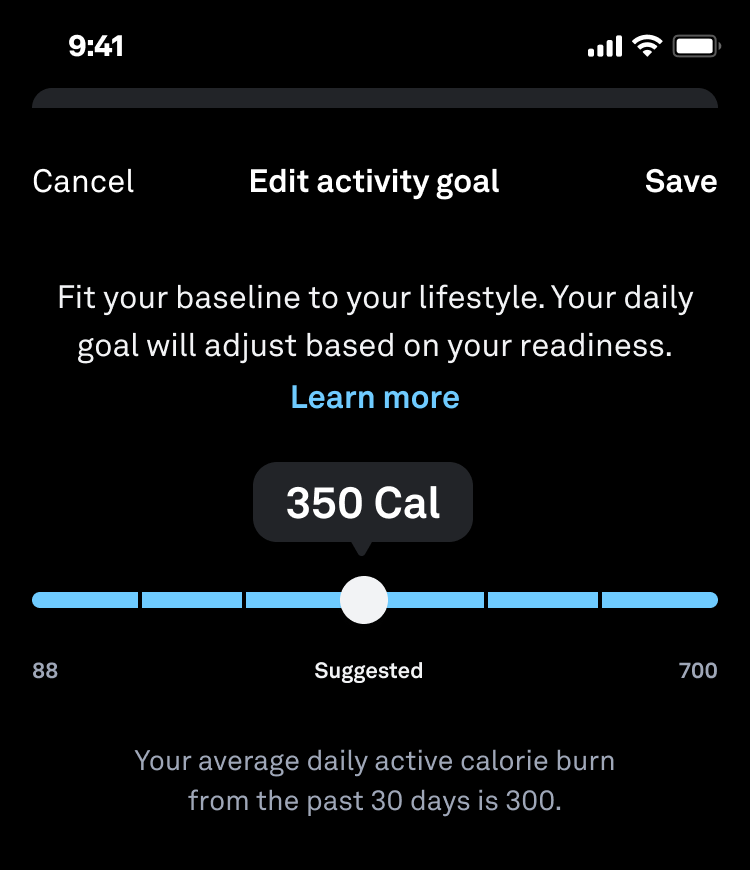 You can also select a goal type:
Active calorie burn

Steps only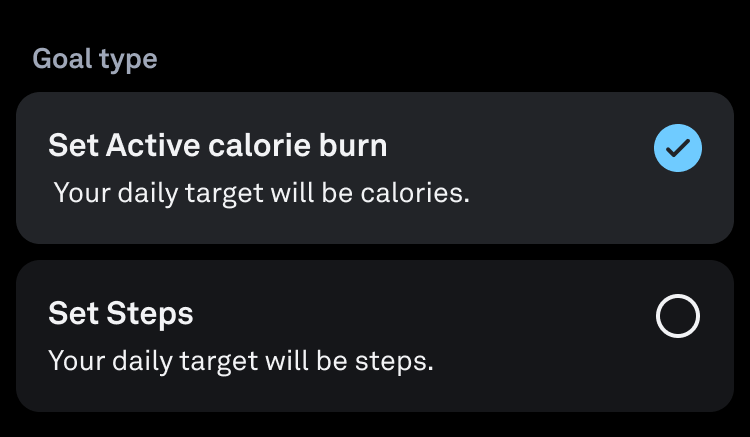 To opt out of displaying calories throughout the app, select the toggle next to "Calorie opt out." If you choose this option, all activity messaging will show only steps information.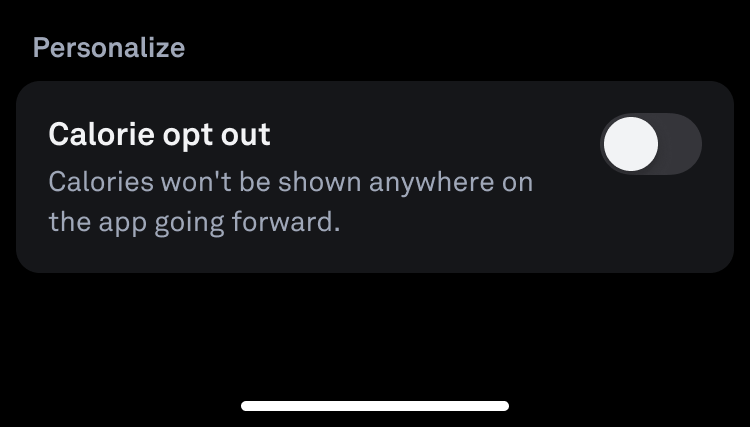 ---
How Activity Goal Works
The value on the slider is your baseline goal calculated from the age, height, weight, and sex in your profile settings. Moving the slider will change the starting value from which Oura calculates your daily goals.
Oura then automatically adjusts and displays your daily activity goal based on your Readiness Score. On days when your Readiness Score is above 85, the daily activity goal will be automatically adjusted to higher than the selected baseline goal. Daily activity goals are reduced to below the selected baseline goal on days when Readiness is below 70. Baseline and daily activity goals are equal to each other on days when Readiness is 70-84.
You can learn more about how Oura measures steps and activity here, and more about your Activity Score on the Pulse blog.
---
Things to Keep in Mind
When toggled off, calories will not display anywhere in the app, including on imported workouts, post-workout screen, and the Meet Daily Goals contributor. All other Activity features are not impacted

Calorie numbers are only hidden starting from the day the toggle is selected. Data from past days will not change

Adjusting the slider only directly changes your baseline goal, not your daily activity goal
Your daily activity goal (as shown in the Activity card of the app's Home tab) is automatically calculated from your baseline goal, Readiness Score, and other contributors
---
More Information
How Oura Measures Steps & Activity
A Guide to Your Activity Contributors
An Introduction to Your Activity Score
Active Calorie Burn vs. Total Burn
Learn about Activity Score on our blog