Oura analyzes your past sleep data to find established patterns, and then uses that information to provide you with a recommended bedtime.
What is Bedtime Guidance?
How to Use Bedtime Guidance
Troubleshooting
More Information
---
What is Bedtime Guidance?
Using information such as what time you went to bed on nights with the highest Sleep Scores, and which nights had the lowest resting heart rates, Oura learns what sleep patterns lead to the best results for you. Based on your usual wake-up times and the recommended amount of sleep, the Oura App will alert you when your optimal bedtime is approaching.
Bedtime Guidance is a recommendation for when to go to sleep. There are no direct penalties to your Sleep or Readiness Scores if you miss the recommended window.
Bedtime Guidance is also different from the Body Clock, which recommends an optimal sleep schedule based on your chronotype. The easiest way to think of these two features is that your Body Clock and chronotype are aspirational guidelines for your ideal sleep times based on your circadian rhythm. Bedtime guidance is a suggested bedtime to get the most amount of sleep available based on your most recent sleep patterns.
---
How to Use Bedtime Guidance
The Bedtime Guidance card will display at the top of your Home
tab an hour before the recommended bedtime window.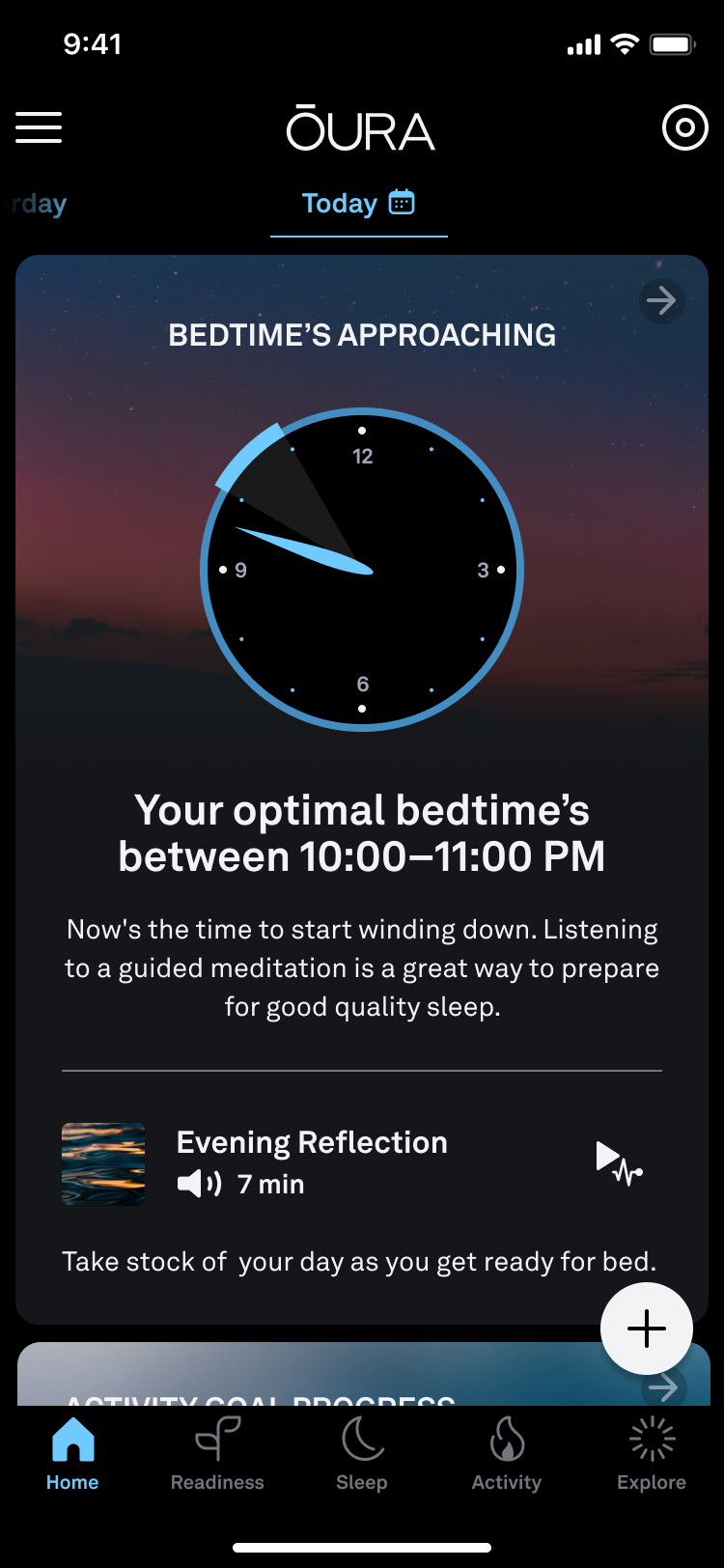 For the rest of the day, it can be found in a collapsed form farther down in the Home
tab.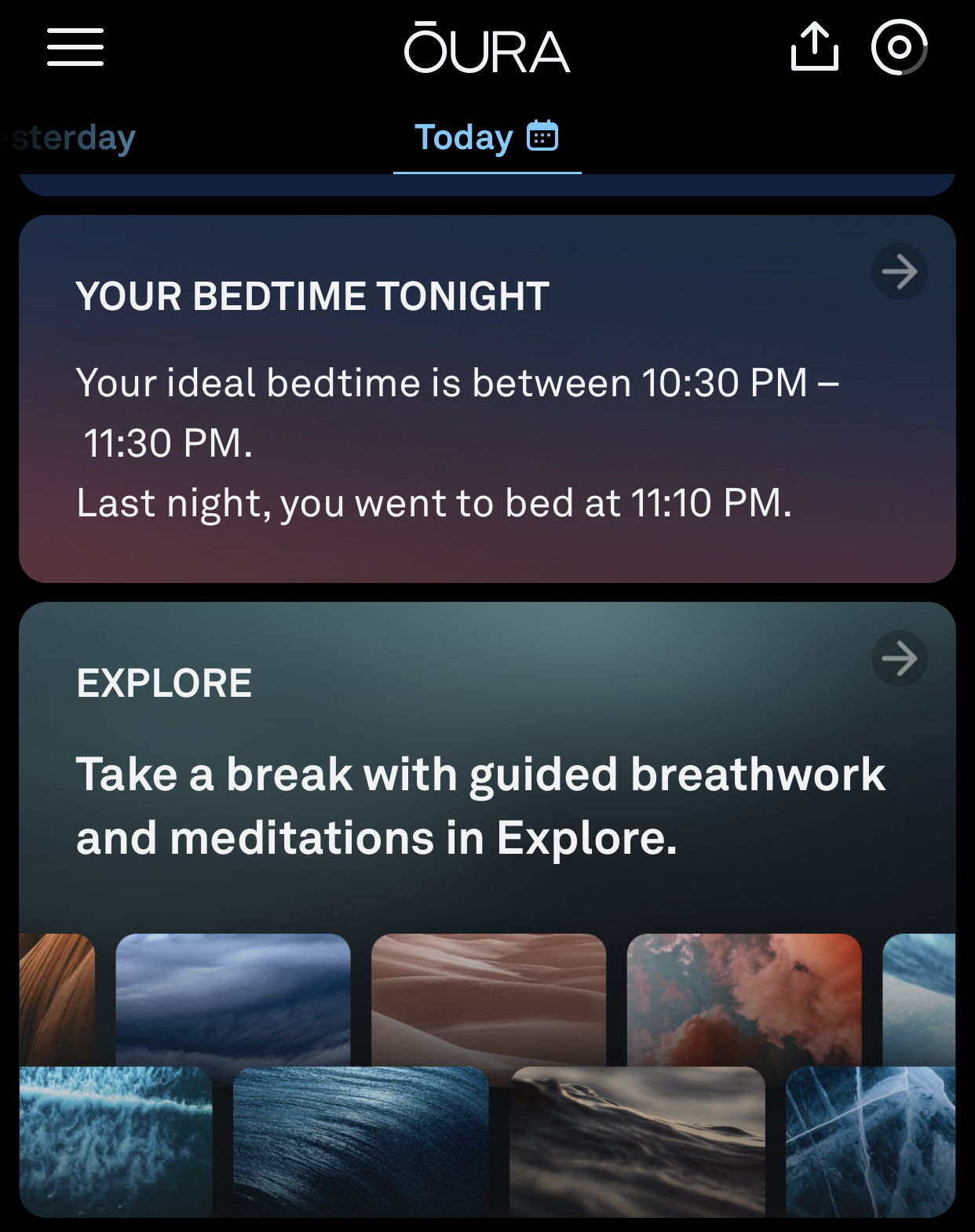 Tap on Bedtime Guidance to see more details in a separate tab.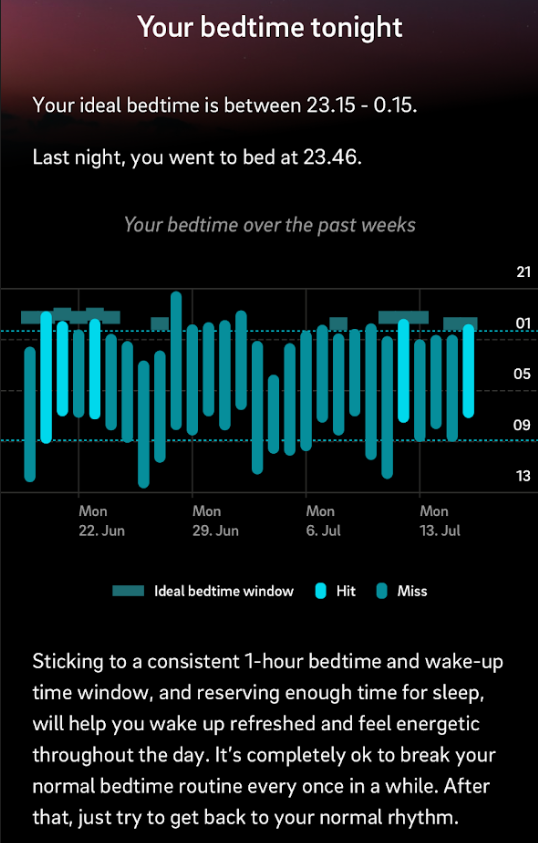 Detailed information includes your upcoming optimal bedtime window, your previous night's bedtime, and a graph of sleep times from the past several weeks.
Note that bedtime recommendations are automatically determined and cannot be manually edited.
For more insights, you can view your bedtime trends by day, week, month, or year in the app's Trends tab:
Tap the menu in the upper left-hand corner of your Home tab
Select Trends
Select Sleep > Bedtime
We also recommend turning on Bedtime notifications to be alerted when your ideal sleep window approaches:
Tap the menu in the upper left-hand corner of your Home tab
Select Settings
Select Notifications
Toggle Bedtime notifications on
---
Troubleshooting
The Bedtime Guidance card appears only on the current day of the Oura App.
Bedtime Guidance requires two weeks of consistent data before it can show recommendations and insights. Having an irregular sleep schedule or consistently low Sleep Scores can also interfere with Oura's ability to provide Bedtime Guidance.
If you do not see a Bedtime Guidance card, continue wearing your ring and try to sleep on a more regular schedule for a week or two.
---
More Information
Find Your Ideal Bedtime With Oura
Oura's Compassionate Approach to Sleep