The Oura App contains several sleep graphs, including a Body Clock, to help you visualize your sleep patterns and behaviors. You can use these to establish healthier sleeping habits, or to gain an understanding of when your mind and body are at their peak and low points of the day.
What is the Body Clock?
What is the Chronotype?
How to Use the Body Clock
How to Use the Chronotype
More Information
---
What is the Body Clock?
The Body Clock graph displays a 24-hour clock face with color-coded sections to compare your optimal sleep window to your current sleep patterns. Your optimal sleep window is based on your chronotype — the biological baseline or circadian rhythm that determines when you are at your most active and alert.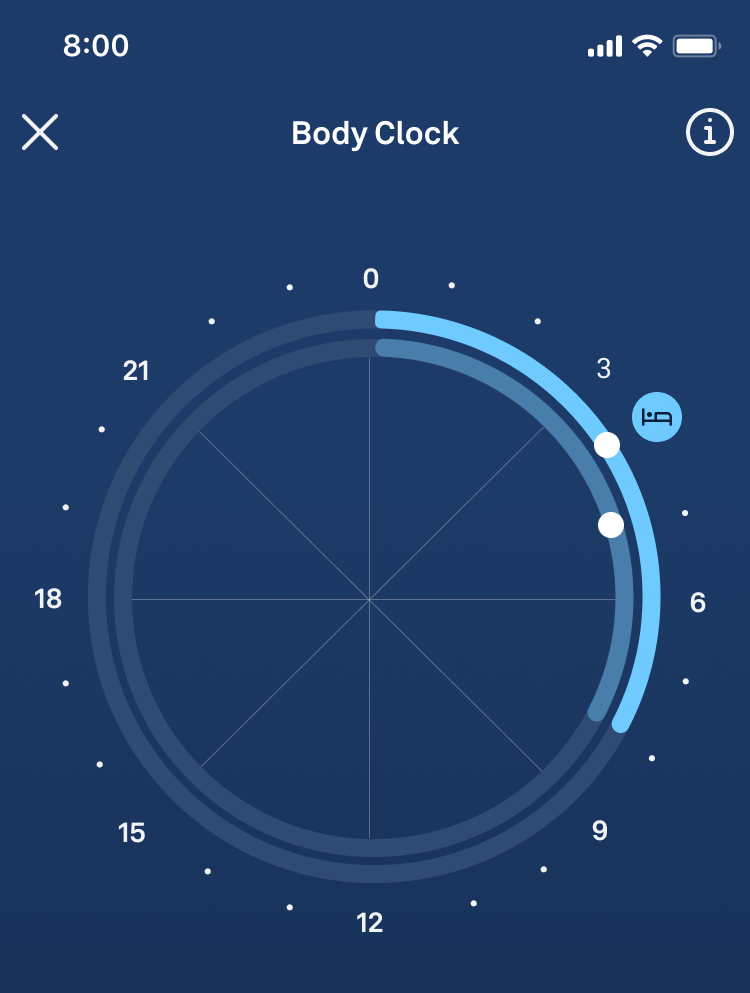 How is Body Clock different from Bedtime Guidance?
Bedtime guidance is based on your past wake-up times: The Oura App takes your recent wake-up times and, based on your best Sleep Scores, sets a recommended bedtime intended to help you get an optimal amount of sleep before your projected next wake-up time.
The easiest way to think of these two features is that your Body Clock and chronotype are aspirational guidelines for your ideal sleep times based on your circadian rhythm. Bedtime guidance is a suggested bedtime to get the most amount of sleep available based on your recent sleep patterns.
Note: the Body Clock is available for Gen2 members and Gen3 members with active membership.
---
What is the Chronotype?
"Chronotype" is another way of saying if you're a morning person, a night person, or somewhere in between. Oura divides chronotypes into six types:
How the chronotype is calculated
Oura takes your data from the past 90 days and looks for at least 30 periods of long sleep (more than three hours). The app uses activity, body temperature, and sleep patterns from this time period to estimate your chronotype.
Naps are not included in your chronotype calculation.
Note: chronotypes are available for Gen2 members and Gen3 members with active membership.
---
How to Use the Body Clock
Your Body Clock is located on the Home
tab of your Oura App.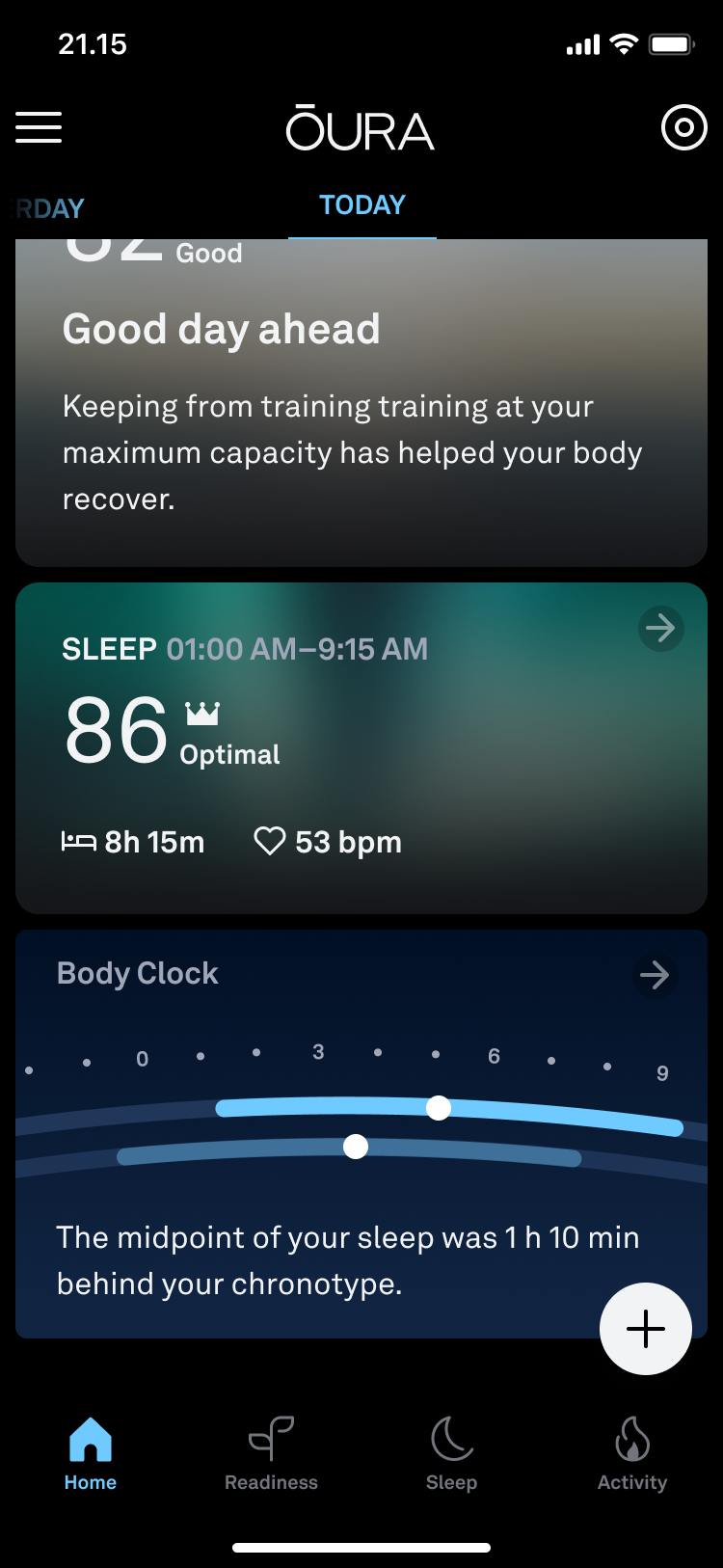 The graph will tell you how closely your sleep rhythm's midpoint from the night before was aligned to the midpoint of an optimal sleep window, as determined by your chronotype. If necessary, the Body Clock will provide guidance on how much to adjust your sleep timing in order to align with your circadian rhythm.
Tap the Body Clock card to open a more detailed version: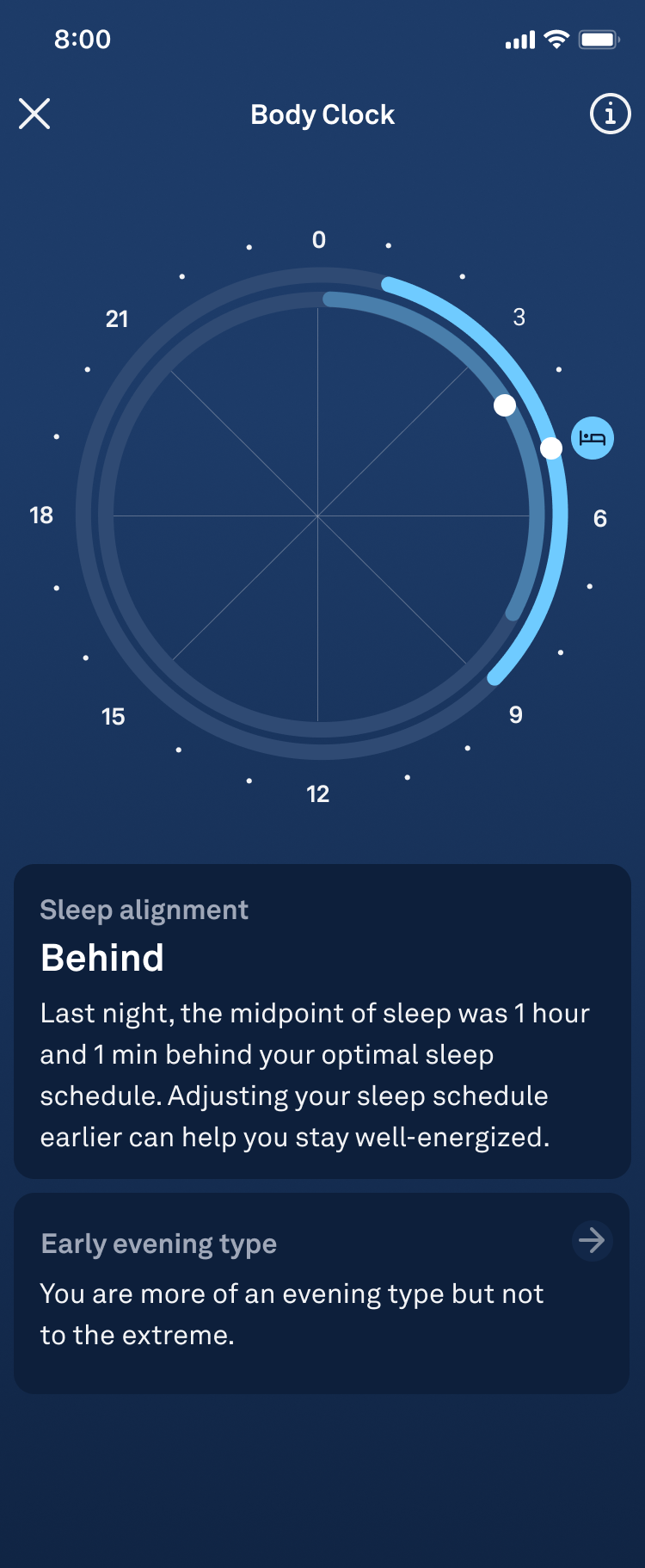 The outer ring of the clockface indicates your sleep schedule from the night before. The inner ring is your optimal sleep schedule based on your chronotype. You can use the Body Clock to see at a glance how closely the two schedules are aligned.
Tap the info
icon in the upper righthand corner of the app for more information on circadian rhythms. Tap the chronotype description at the bottom of the Body Clock screen for more information on your specific chronotype.
---
How to Use the Chronotype
You can find your chronotype by tapping on the Body Clock card in the Home
tab of your Oura App. The chronotype is displayed at the bottom of the Body Clock screen. Tap into it to learn more information about your specific chronotype, as well as educational information about how you can capitalize on your sleep patterns.
Morning types benefit from waking up early and undertaking physical or mental tasks during the first half of the day. Evening types prefer to sleep in, and feel more alert and creative during the late hours of the day.
The Oura App requires 90 days of measurements with at least 30 long sleep periods (more than three hours) in order to calculate your chronotype. Because the chronotype calculation also uses activity and body temperature data, you must wear your ring consistently during night and daytime, otherwise your chronotype will not appear in the app.
Changing timezones frequently or not syncing your ring at least once a week can also prevent the app from displaying your chronotype.
Read more at the Pulse Blog: What Is Your Chronotype & Why Does It Matter?
---
More Information
Circadian Rhythms and Your Bedtime