Exporting your Oura data allows you to view comparisons between your Sleep, Readiness, and Activity data in the form of a spreadsheet—which neatly organizes your insights according to date.
You can download your Oura data to a CSV file using Oura on the Web. To do so, please follow along below.
At the bottom of this article, we also provide additional options for how you can approach sharing your Oura data, if downloading to a CSV file isn't preferred.
---
Export Your Oura Data to a CSV File
Sign-in to Oura on the Web using your Oura account details.
Select Trends in the menu on the left-hand side of the page.
Choose your desired date range using the dropdown menu in the center of timeline at the top of the page.

You can also adjust the date range by clicking and dragging your cursor over the portion of visual data in the timeline you'd like to export, as shown in the image below.

Next, decide which Oura metrics you want to compare by selecting them on each side of the graph. You'll find dropdowns located in the upper left, and upper right-hand sides of the graph.

If you'd like to export more than two metrics at once, we recommend using this method instead:
Select "Download Data" in the upper right-hand side of the page, then either (1) "Select all" for a full export of all

your data points across Sleep, Readiness, and Activity or (2) individually select the measures you'd like to download. You'll be able to add as many as you want.
All metrics to be included in your export will be shown in the pop-up window. If you followed the first set of guidance in Step 4, you can continue to add more metrics using the dropdown menu or choose to "Select all."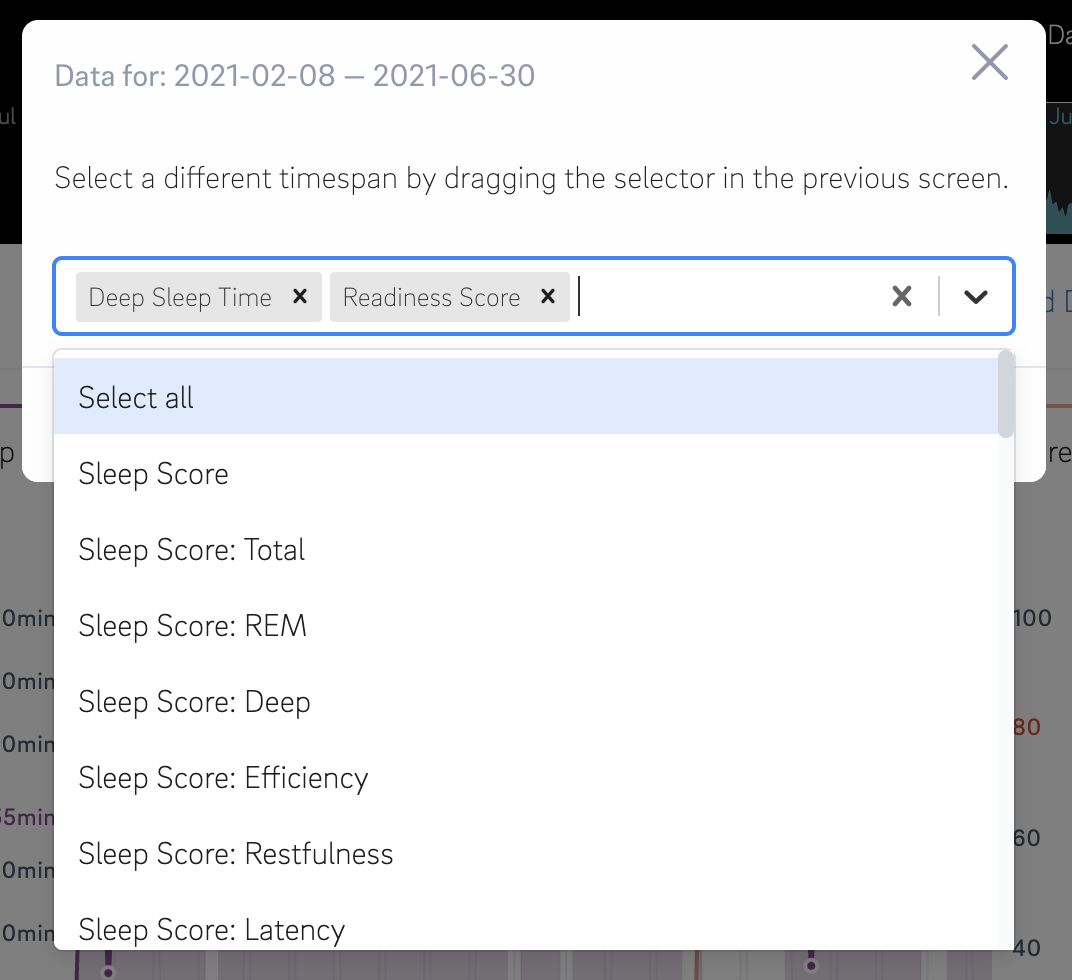 Finally, select Download to export your data.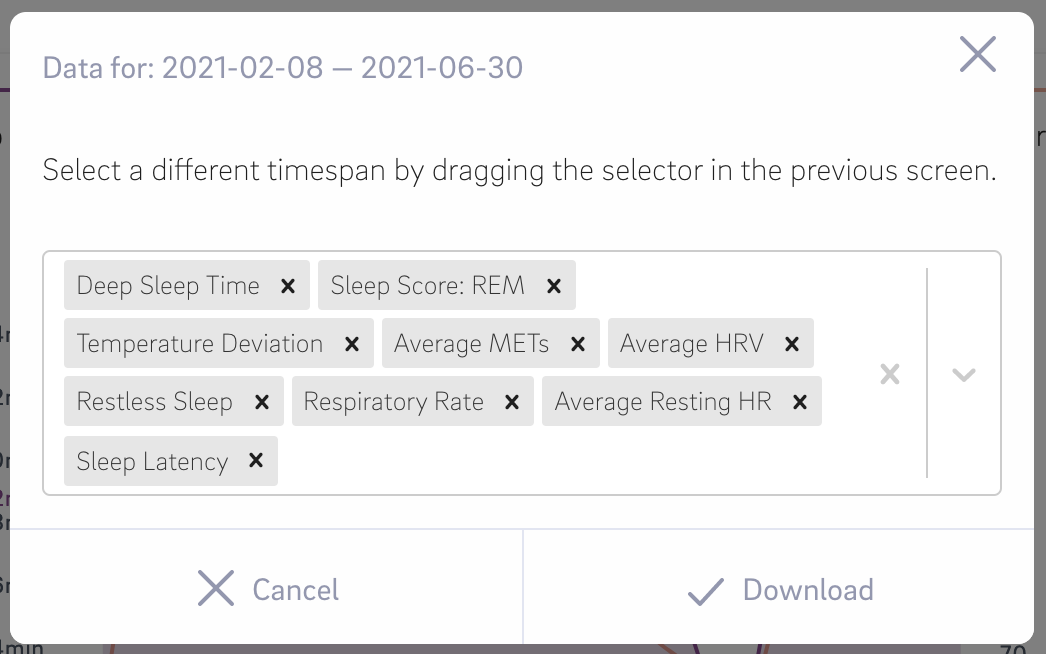 ---
When to Export a CSV File
Exporting a CSV file from Oura on the Web can be useful in the case you'd like to perform deeper analyses on your Oura data. An example may be how two of your metrics (e.g., inactivity time and deep sleep time) correlate with one another over time. Viewing your Oura data in the form of a spreadsheet allows for seamless comparison of individual data points, side-by-side. Downloading your Oura data into a CSV file can also be useful if you'd like to upload it into a separate software program for analysis purposes.

Exporting your data can be helpful if you'd like to formally share your Oura insights with an outside party, such as a physician, healthcare provider, nutritionist, therapist, or trainer. See below for more ways you can capture and share your Oura data, if interested.
Learn more about Oura on the Web and how to get the most out of it.
---
Share Your Oura Data
If you'd like to share your Oura data with others, here are a few additional options you can explore (aside from exporting to a CSV file):
*Note: all of the following suggestions result in an image as the final "product" to be shared.
Take advantage of Oura stickers, which allows you to create your own "data story" of sorts. You'll be able to add one or multiple pieces of Oura data to a background of your choosing, and from any given day via your in-app calendar, then save it as an image to your device. Follow the link above for step-by-step instructions on how to get started here.
Take a screenshot. You can manipulate your data via Oura on the Web using the embedded trends feature to capture the view and metrics you're looking to share. You can do this for multiple comparisons as well by adding additional charts. Follow the section labeled "How to Use Trends in Oura on the Web" in this article for step-by-step guidance on how to proceed with this method. Once you have your data lined up as desired, you can take one or multiple screenshots from your browser.
If you're using a Mac, press Command + Shift + 4, drag to capture your desired view, then release all keys. Your new screenshot will be automatically saved to your desktop.
If you're using a PC, press the PrtScn button on the upper-right hand side of your keyboard, then release to capture your entire screen. You can press Alt + PrtScn instead to capture only the current window you're working in. Both of these efforts will copy the image to your clipboard. Next, press Ctrl + V to paste it into Paint, Word, or other image-editing programs you have at your disposal to "clean it up" as needed, and save accordingly.