Warranty FAQs
Warranty FAQs
This article contains answers to frequently asked questions related to warranty cases and is broken up into the following sections:
Warranty Basics
Locating Your Order Number & Ring Details
Requesting Changes On A Replacement Ring Order
Receiving Your Replacement Ring
Warranty Basics
1.
How long is the warranty on my Oura Ring?
Oura Rings are covered under a limited warranty for a period of 2 years from the original shipment date (i.e., day you received your shipping confirmation email from Oura). If you receive a replacement ring before this 2-year mark is reached, your warranty will continue to be covered for the remainder of the 2-year period, or for 90 days following the date of your replacement—whichever happens to be longer.
Please visit our Terms of Use for more information.
2.
How do I start the warranty replacement process?
Please submit a request to our team to start your warranty replacement. We ask that you be as specific as possible when describing your ring or charger issue, and to include pictures or videos in the attachments section—if necessary. For example, if your ring has a physical defect, we ask that you provide two separate images to our team:
A close-up image of the damaged area(s).
A wider photo of the entire ring (including any physical damages—i.e., bulging/swelling batteries, cracks, bends, etc.)
This will allow our team to help you as soon as possible.
Our team will approve or deny your request based on the information you provide, and the shipment date of your original purchase. If approved, your request will be sent to our warranty queue and assessed by one of our team experts. Once the assessment process is complete, a replacement ring will be shipped in a few days' time.
3.
When can I expect to hear back about the status of my warranty case?
Warranty cases are handled in the order they're received. Our team will get back to you within 5-7 business days at the latest. At certain times (e.g., holiday periods or weekends), our team may experience unusually high warranty requests. We appreciate your patience during these periods.
---
Locating Your Order Number & Ring Details
1.
Where can I find my order number?
You can locate your order number on the original confirmation email you received after purchase. If you exchanged your original ring, please provide the latest order number—this would've been issued in your replacement ring confirmation email. If you're unable to locate your original confirmation email, please provide the email address used in your initial purchase, your current ring model, and size (see FAQ #2 directly below for more detail here).
If your ring was a gift, please provide the full name of the person who gifted it to you, and any other identifiable information (e.g., email address or phone number) to help us locate the order.
2.
Where can I find my ring model and size?
Your ring details can be found inside the Oura app. On the Home tab, tap the ring
icon in the upper right-hand corner (you can still click it while it's spinning). From here, swipe from right to left to see your ring model and size listed, as shown below.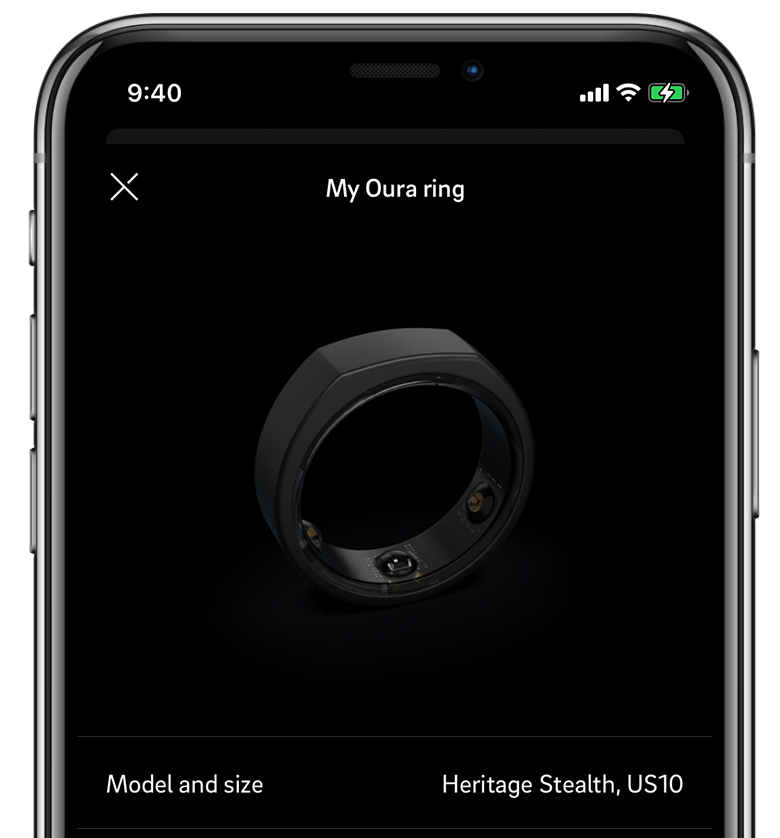 3.
I bought my ring from Elisa Kulma, where can I find my order number?
If you purchased your ring from Elisa Kulma, please provide us with a photo of the receipt. Kindly confirm your ring's color, model, and size as well.
---
Requesting Changes On A Replacement Ring Order
1.
Can I change my ring size, color, or model for my replacement?
A warranty replacement ring must match the original model purchased. Style, size, and color changes are not permitted.
2.
Can I have my warranty replacement shipped to a different address?
We're happy to send your replacement to a new address. Please confirm your current shipping address with our team. We may need your past address only if we're unable to locate your order information.
3.
Can I have my warranty replacement shipped to a different country?
If it's a country we ship to, we're happy to ship your warranty replacement to a different country. You can visit this article for a list of countries we ship to, located a few scrolls down from the top of the page.
4.
Will I have to pay customs and duties on my warranty replacement?
Replacement rings are shipped as low-value replacement parts. Most countries that charge import duties will not charge fees on a replacement. We recommend checking your local laws as some countries will charge a minimal fee for any import, no matter the value or classification.
---
Receiving Your Replacement Ring
1.
When will I receive my warranty replacement?
Once we place your order, your replacement ring should arrive in roughly 5-7 business days. You'll receive (1) a confirmation email, then (2) a tracking email once your replacement ships.
2.
Do I need to send my current ring back?

When your case is processed, you will receive instructions on what to do with your current ring.
3.
Will I receive a replacement ring, charger, or both?
This depends on your specific case. Our team will inform you of these details after a full review of your initial inquiry.
4.
Will my replacement ring be able to support my existing Oura data?
Yes. Please follow our Replacement Ring Set-Up Guide, and all previous data synced to your personal account will remain available in your Oura app. Once you receive your replacement ring, you'll be able to connect it to your personal account and Oura app, which contain all your existing data and insights.
Keep in mind: if you plan on switching operating systems (e.g., iOS to Android), you won't be able to carry your existing Oura data over to the app on your new device. Despite this, your data will still be available in Oura on the web.
5.
How do I set up my replacement ring?
Please visit this page for a complete guide to setting up your replacement ring.
Back to the Top