The Oura App provides the ability to monitor your heart rate 24 hours a day. The 24-hour heart rate graph is available for both iOS and Android on the Oura Ring Generation 3 only.
What is the Heart Rate Graph?
24-hour Heart Rate Trendline
Live Heart Rate
Restorative Time
Daytime Heart Rate Measurement
Workout Heart Rate
How to Use the Heart Rate Graph
Things to Keep in Mind
More Information
---
What is the Heart Rate Graph?
The heart rate graph located in the Home
tab of the Oura App shows color-coded visualizations of your sleeping, daytime, and workout heart rates, as well as periods of Restorative Time, all in the same chart.
The heart rate graph includes the following components:
24-hour Heart Rate Trendline
The 24-hour graph displays sleep resting heart rate in blue, Restorative Time in green, and Workout Heart Rate in orange. The white trendline is the average of your heart rate readings throughout the 24-hour period.
Nighttime heart rate graphs are also available on the Sleep
and Readiness
tabs.
Live Heart Rate
The latest reading of your pulse is displayed as beats per minute (BPM) beneath the heart rate graph, with a time indication of how long ago the last update was measured. Tapping the heart
next to this number will update it with your current pulse measurement. Check out the Live Heart Rate article for more information.
Restorative Time
Restorative Time marks moments during the day when your body falls into a restful recovery state. Tracking these moments is a good way to measure your readiness. For more information on getting the most out of this feature, see our Restorative Time article.
Daytime Heart Rate Measurement
Oura takes measurements of your daytime heart rate for one full minute, every five minutes, using the Gen3 ring's green LEDs. To preserve battery and maximize accuracy, a daytime heart rate measurement is only taken under optimal conditions, which include low movement and balanced body temperature.
Due to prioritizing these conditions, you may not receive an automatically updated heart rate for up to 30 minutes, but it can be manually updated at any time by using Live Heart Rate. Also note that "low movement" generally includes everyday actions, up to excessive motion associated with workouts.
Workout Heart Rate
The amount of motion during exercise introduces too much informational noise for the Generation 3 ring to passively capture accurate readings. Use the Workout Heart Rate feature to record your exercises, instead. Heart rate measurements from workouts are highlighted in orange on the graph.
---
How to Use the Heart Rate Graph
After your first full day of using the Oura Ring, the 24-hour heart rate graph displays as its own card in your Home
tab, located beneath the Activity Goal Progress. The graph shows heart rate beats per minute (BPM) for the current day (midnight to midnight). The most recent heart rate value (in BPM) is displayed beneath the graph, along with the Live Heart Rate
button.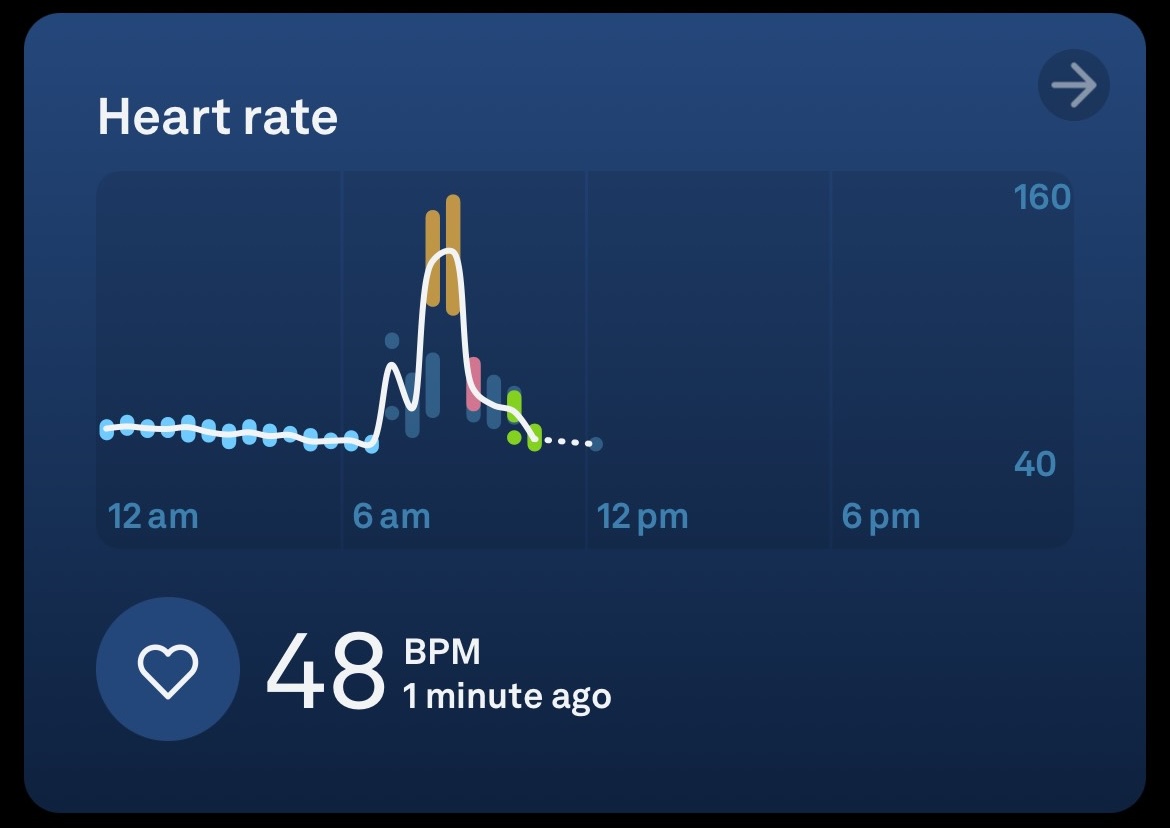 Each x-axis division of the graph represents a 30-minute time window, and every individual colored dot within those divisions is a five-minute heart rate range. Longer vertical bars indicate clusters of readings that overlap within the same 30 minutes.
The solid white trendline across the graph represents the average of all heart rate measurement. Dotted white lines indicate periods in which reliable data is not available. See the Troubleshooting Gaps in Heart Rate Graphs article for more information.
Tap anywhere on the heart rate graph for more detail. Press and hold or drag your finger on the graph to see a thin, vertical blue line. This line shows your exact heart rate range during that timeframe. Swipe left on the graph to view heart rate data from previous days.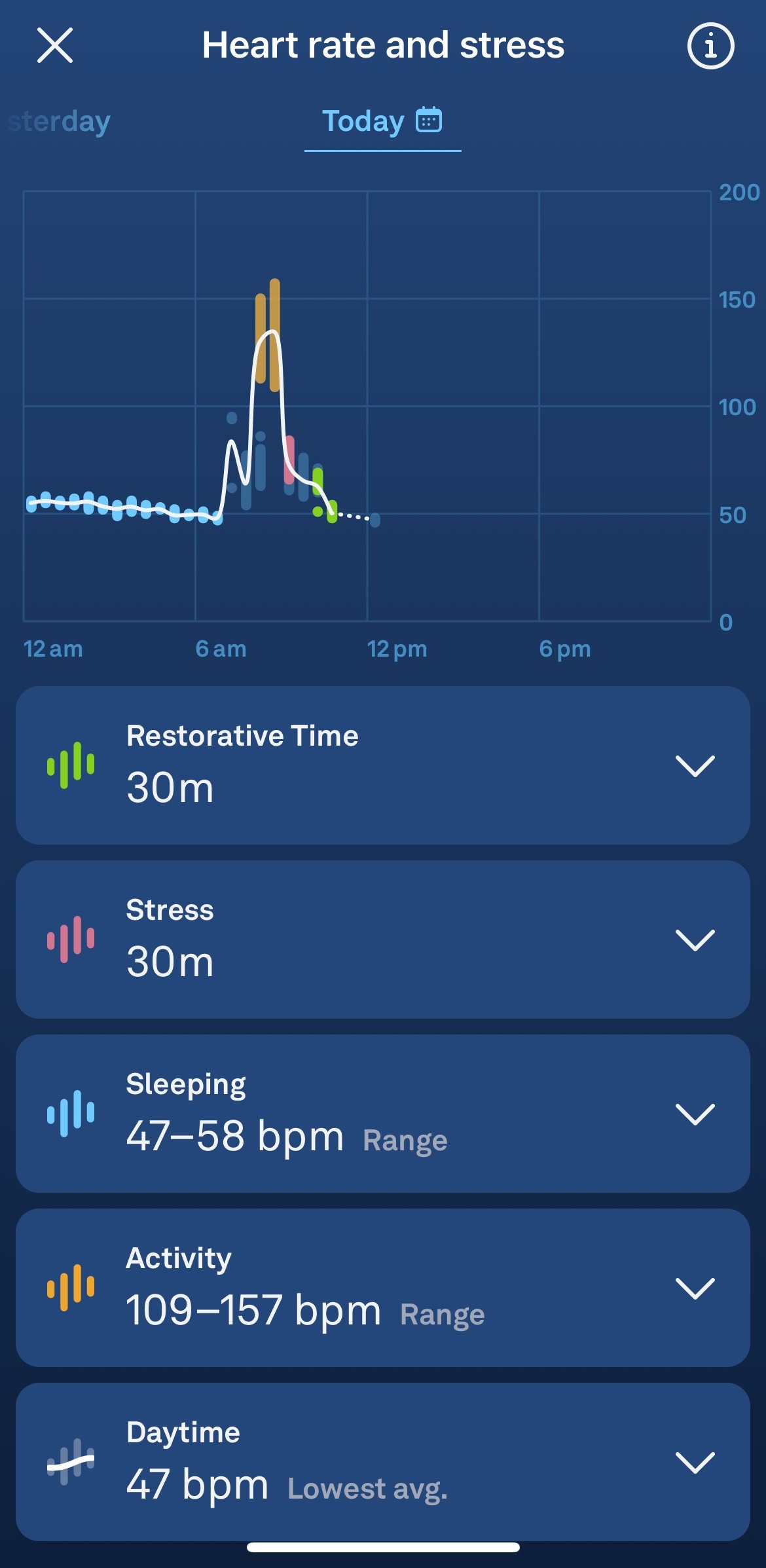 Tap on any of the four core metrics (Restorative Time, Sleeping, Workout, and Daytime) to see more data in an expanded graph. Select "Learn more" beneath each one for further information, including how to interpret your heart rate curves.
---
Things to Keep in Mind
The 24-hour heart rate graph is not available on the Oura Ring Gen2 or Gen1. If you upgraded to Gen3 from one of these, daytime heart rate values will not be available from previous generations

Daytime Heart Rate and Live Heart Rate are not intended to record workouts. For accurate measurement of your pulse during exercise, use the Workout Heart Rate feature

Excess movement or unusually low body temperature may result in gaps in your heart rate graph data

Confirmed naps appear as sleep (in blue) on the 24-hour daytime graph
---
More Information