Follow these tips to get the most out of your ring's battery life.
Charge Your Ring Before Going to Bed
Enable Airplane Mode
Enable Low Battery Notifications
Prevent Damage to Your Battery
Properly Store Your Ring
Only Use Your Ring with One Device
More Information
A fully charged ring may last up to seven days. Battery life and longevity can vary depending on the age of your ring and how often you use certain features such as Workout Heart Rate, the Explore tab, or Blood Oxygen Sensing. All rechargeable batteries are consumables and have a limited lifespan, so their capacity and performance will gradually decline over time.
Your Oura Ring can take 20-80 minutes to fully charge, depending on its current battery level. You can check the battery level by tapping the battery

icon in the upper right-hand corner of the Home
tab.
---
Charge Your Ring Before Going to Bed
We recommend that your ring is charged to at least 30% before going to bed. If your ring's battery level is low, you may not receive sleep insights for the night.
You'll still receive a bedtime and wake-up time, but no Sleep or Readiness Score, and no further breakdown of your sleep stages, heart rate variability, respiratory rate, or resting heart rate.
We recommend keeping your ring's battery level above 30%. Having your charger on-hand (such as in your purse, car, backpack, or at your desk) can help you get into a routine of charging your ring for a little bit each day. Consider charging your ring during natural periods of low activity, such as when washing dishes, typing on your computer, showering, cooking, etc.
---
Enable Airplane Mode
If you're looking to get the most out of each charge, we suggest placing your ring in Airplane Mode. This turns off all Bluetooth communication between your ring and phone, which can help to conserve battery.
---
Enable Low Battery Notifications
To receive reminders before bed when your Oura Ring's battery is low, enable Battery level notifications in the Oura App.
Go to the menu in the upper left-hand corner of the Home tab.
Tap Settings > Notifications.

Enable Battery level notifications.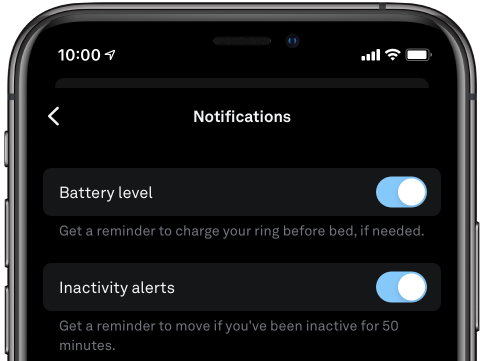 Note: notifications will not appear if your ring is in Airplane Mode.
---
Prevent Damage to Your Battery
The USB charging power cord is intended to be supplied by an external 5Vdc supply that complies with IEC 62368-1 standard. The power available to the equipment should not exceed 15W after three seconds, to prevent battery degradation.
Other factors may also lead to battery damage:
Leaving your ring on the charger for a period of time greater than one week. Charging for extended periods of time while at maximum capacity can substantially reduce battery life
Long exposure to extreme temperatures (hot/freezing)
Allowing your ring's battery to reach 0% can affect its longevity
---
Properly Store Your Ring
If you plan on taking a break from wearing your ring (for more than two weeks), we recommend placing your ring in Power Saving Mode before storing it to protect the battery capacity from deteriorating.
---
Only Use Your Ring with One Device
The intended use and setup of an Oura Ring should consist of the following: one ring, one account, one device. If there are multiple users or data sources feeding into the same account, this leads to missing data, connectivity issues, or even accelerated battery consumption.
---
More Information