Reflections is a journaling tool to track daily how you feel and what events or activities affect your emotional health.
What is Reflections?
How to Use Reflections
How is My Data Used?
Things to Keep in Mind
More Information
---
What is Reflections?
With Reflections, you can quickly record your mood and a brief review of your day. 
You create a journal entry by recording your voice or typing a note. The Oura App uses voice recognition to dictate your recording into text.
You also can enable an artificial intelligence (AI) feature to automatically add punctuation and tags for your entry. 
We're rolling out Reflections gradually to a random set of members, so it may take some time before this feature appears on your Oura App.
This feature is currently in beta and is accessible to:
Gen3 and Gen2 active members

Members who have an iOS device

Members whose

Oura App language

is set to English
---
How to Use Reflections
Getting Started
If Reflections is available on your device, you'll see a Reflections home card toward the end of your day when the Bedtime Guidance home card also appears.

When you use Reflections for the first time, you'll see an onboarding screen. You can toggle on "AI enhanced entry" to automatically suggest tags and grammatical changes.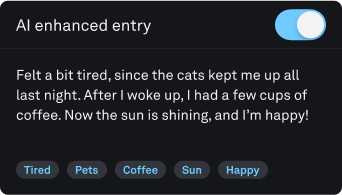 Tap Try it now to start using Reflections. 
Assessing Your Mood
When you tap the Reflections card on the Home tab, the Oura App will ask "How are you feeling tonight?"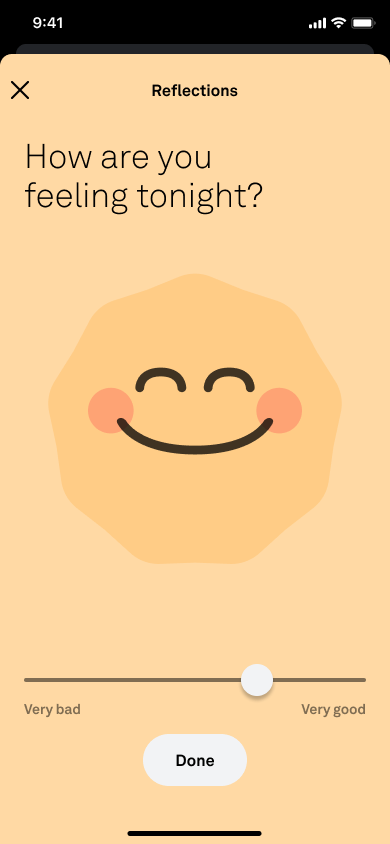 You can adjust the slider to record your mood:
Very bad

Bad

Alright

Good

Very Good
Tap Done to enter the next screen. 
Creating an Entry
In the journaling view, you'll be asked to create an entry.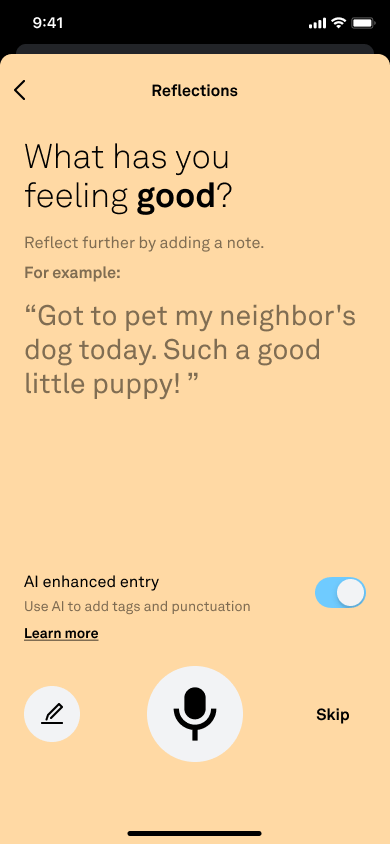 Tap to begin a voice recording. If this is your first recorded entry, you will be asked to grant the Oura App access to your device's speech recognition and microphone
Tap to manually type your entry
Tap Skip to move to the next screen where you can enter tags
AI enhanced entry is automatically toggled on to suggest tags and grammatical changes. You can also manually edit your entry and add tags.
Journal Trends
After you've completed an entry for the day, tapping the Reflections home card opens the Reflections trend view.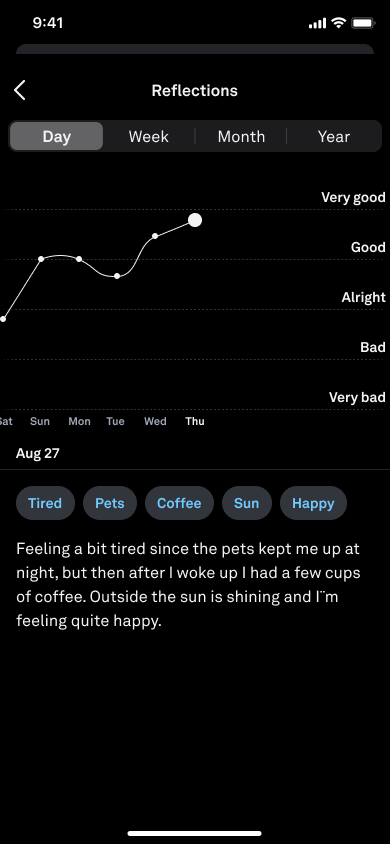 You can see a trend of your daily reported moods over time, as well as tags you've previously entered through Reflections.
---
How is My Data Used?
If you opt to make an AI enhanced entry, only the text from your entry is securely shared with our sub-processors.
Your text will not be used for training models or for any other purpose than providing the AI enhanced entry.
Oura and its sub-processors may store the text of your entry for up to 30 days to monitor and prevent misuse.
Learn more about how Oura protects personal data.
---
Things to Keep in Mind
You can only access Reflections if a home card appears on your Oura App. If no home card appears, it's because we're rolling the feature out gradually to a random set of members

You can make one journal entry each day

If you have AI enhanced entry enabled, there is a 500-character limit for a journal entry. If you have AI enhanced entry disabled, there is no character limit

You can still use Reflections if you decide not to use AI enhanced entry or the voice recording features

Tags that you've added in Reflections are only visible in the Reflections trend view as of now
---
More Information
Track, Understand, and Manage Your Stress With Oura